Anaerobic Digestion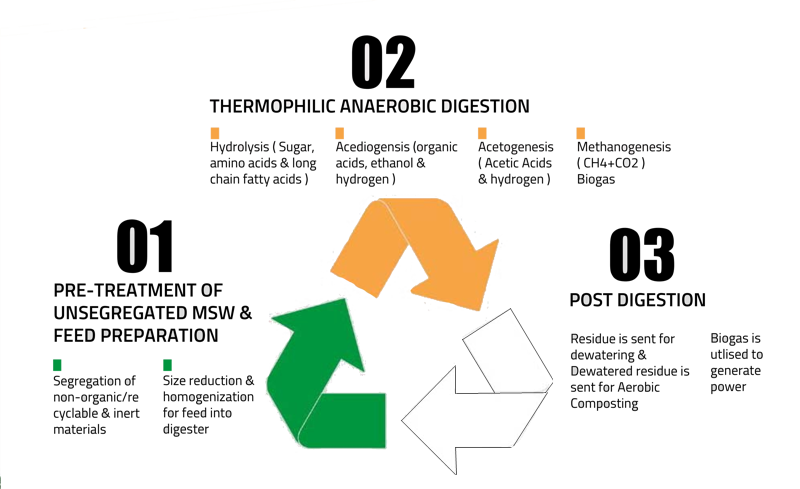 The company has developed the product 'Yasasu Green', small scale containerized product to treat waste at source based on DRYCO-ADTM technology. Its an advanced biological process based on the proven High Solid Thermophilic Biomethanation process for processing MSW. The process is uniquely designed for high solids and is environment friendly. The uniqueness of this process is in its effective mixing and design of reactor.Bio-degradable organic waste is reduced in size through pre-treatment.

The biogas generated can be utilized to generate electricity using biogas engines or alternatively can be used for cooking. Further to generate additional revenue, the dewatered cake from Anaerobic Digester (AD) unit can further be sold as organic compost after drying.

Advantages:





Provides waste management solution at source
Gives green energy – gas/power as a product.
Practically no odors
Produces better quality organic compost free of pathogens
No additional chemicals required to assist composting.
Negligible O&M cost.
Applicable as per the new Solid Waste Management Rules (SWM) 2016 (Clause 11 & Clause 15) which promotes decentralized Solid Waste management Plants.



Features :





Fully prefabricated compact design.
Ready to install on foundation / level platform
Plug and play concept.
Reliable process for optimum performance under varied conditions
Modular design with flexibility to expand with minimum Space, Time & Cost.
Employment & development opportunity for local human resource through Operation & Maintenance.
Improved health & Sanitation facility with socio economic benefit.



Save and Gain :





Saving in Collection and transportation cost
Saving in land due to reduction in the landfill requirement as organic fraction load reduced.
Saving in O & M cost as captive power can be utilized from the generated power, so no additional cost for power.
Revenue generation due to excess power (after captive consumption) and compost generation
Revenue generation due to resale of plastics and other saleable inerts.